GTA Event Week 09.03.2023
The GTA event week starting on 09.03.2023 is all about fast cars, a new vehicle, and profitable workshop side hustles. So buckle up, rev your engines, and go full throttle!
New Hotring Circuit Races 2023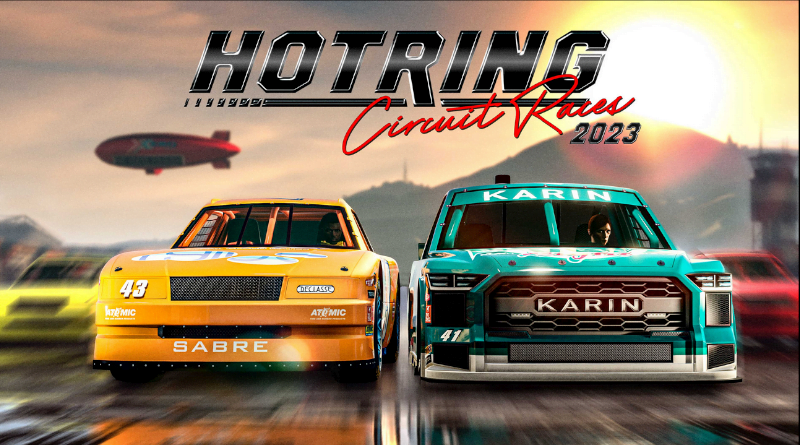 Show off your racing skills in the new Hotring Circuit Races 2023 and earn 3x GTA$ & RP. If you manage to finish in the top 3 in one of the new races this week, you'll receive a one-time cash prize of 100,000 GTA$.
New races:
• Waterway
• Palmer-Taylor
• Bolingbroke Bowl
• Arcadius
• Altruist Camp
• Fort Zancudo
Money bonuses:
3x GTA$ & RP on Auto Shop Client Jobs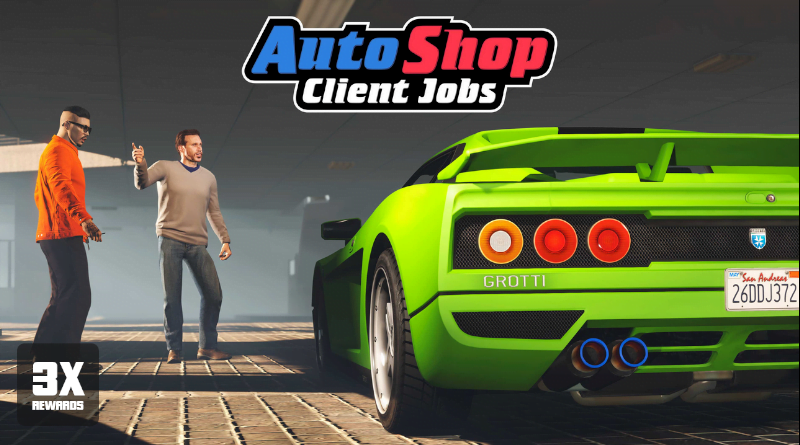 If you prefer to earn your money honestly and legally in the world of GTA, then your moral compass and hard work ethic will pay off this week. For every car you customize and deliver according to your clients wishes, you'll receive 3x GTA$ & RP this week.
3x GTA$ & RP on Auto Shop Robbery Contract Finales
The main moneymaker this week is definitely the Auto Shop Robbery Contract Finales. They are quick to complete and pay up to 900,000 GTA$ this week. To accept the auto shop heist missions, go upstairs in your workshop to the mission board. You'll be offered a selection of different orders.
3x GTA$ & RP on Exotic Exports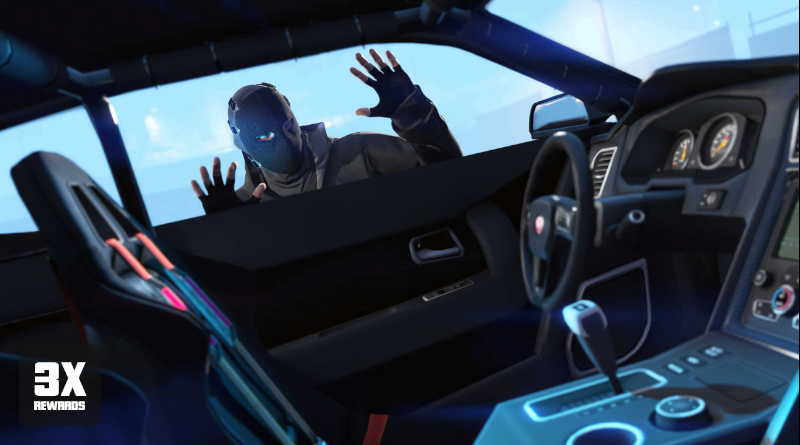 If you own an auto workshop, keep a constant eye on the mini-map this week, because if you spot a blue dot, there's a good chance it's an exotic export vehicle. They're worth a lot until 15.03.0223! Once you find one of these vehicles, get in and bring it to the marked port to collect 120,000 GTA$ per car.
This week, there's also 2x GTA$ & RP for the following modes:
Sumo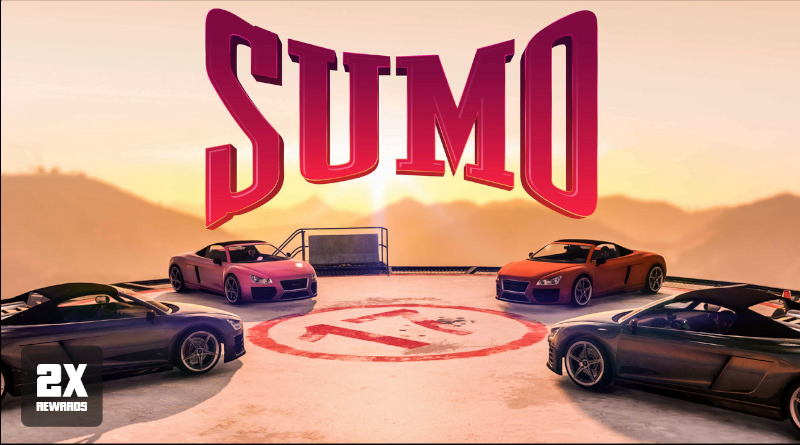 New jobs for the Community Series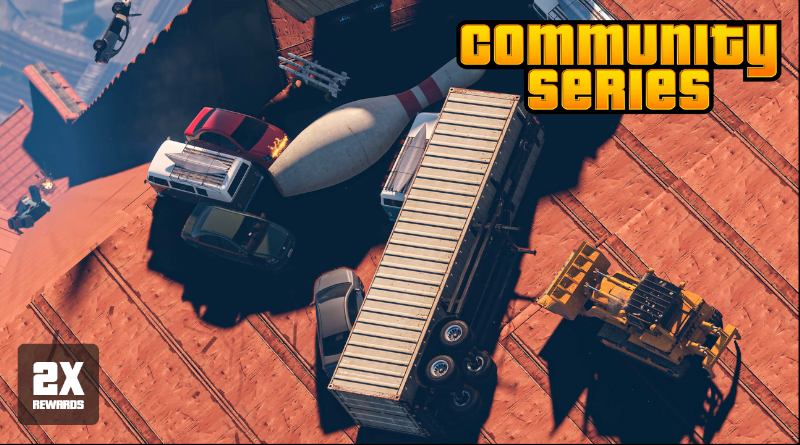 RPG VS INSURGENT VS TRAIN by nico92898:
Unstoppable object? Check. Immovable object? Check. In this last team standing, one team must eliminate a group of insurgents with bazookas while both teams avoid colliding with a train rushing by from time to time.
Royal Brawl byEddieLTU:
A team deathmatch for up to 30 players in an abandoned castle façade on a decaying film set.
Chutes and Splatters bytromatized1970:
In this vertical last team standing, one team hurls vehicles and other heavy objects while another team ascending upwards dodges bowling pins and balls, buses, and fire trucks.
Definitely try out these player-made game modes and experience what the GTA Online community is capable of!
Discounts:
Real estate discounts:
40% off on the Auto Shop and all its associated upgrades.
Vehicle discounts:
• Bravado Buffalo STX (Muscle Car) – 35% off
• Annis Hellion (Off-Road) – 35% off
• Declasse Hotring Sabre (Sports Car) – 35% off
• Karin Calico GTF (Sports Car) – 35% off
• Annis Euros (Sports Car) – 35% off
• Coil Cyclone II (Super Sports Car, only on PS5 and Xbox Series X|S) – 35% off
• Lampadati Tigon (Super Sports Car) – 25% off
• Benefactor BR8 (Open Wheel) – 25% off
• Vapid Caracara (Off-Road) – 25% off
On the Test Track: Three Open Wheel cars
• Benefactor BR8 (25% off)
• Ocelot R88
• Progen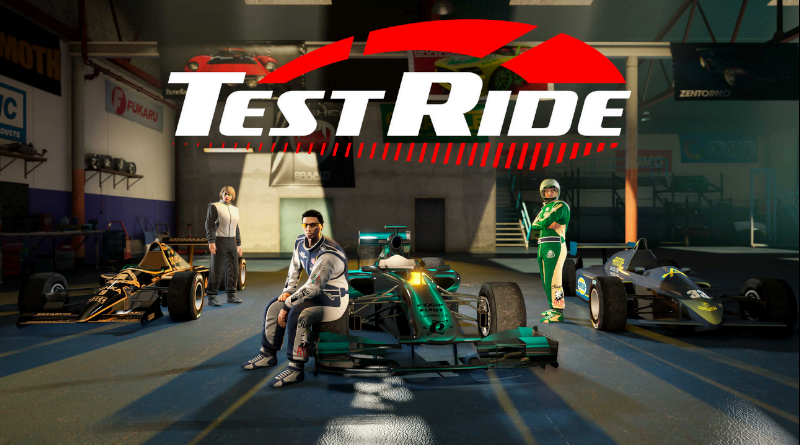 Podium Casino vehicle:
BF Club (Compact)
LS Car Meet Prize Vehicle:
Place in the top 5 in street races for three consecutive days
Prize:
Canis Seminole Frontier
Premium Deluxe Motorsport Showroom
Check out, test drive, and buy the following vehicles this week at the Premium Deluxe Motorsport Showroom:
• Karin Hotring Everon (Sports Car)
• Declasse Hotring Sabre (Sports Car, 35% off)
• Dundreary Landstalker XL (SUV)
• Annis Hellion (Off-Road, 35% off)
• Pfister Comet (Sports Car)
Luxury Autos Showroom
The two exquisite luxury vehicles in the Luxury Autos Showroom are:
• Lampadati Tigon (25% off)
• Pegassi Tezeract
Weapon Transporter:
10% off on weaponry
15% off on throwables
25% off on armor
Exclusive content for our next-gen gamers on PlayStation 5 and Xbox Series X|S
HSW Premium Test Vehicle: Coil Cyclone II
Quote from Rockstar Newswire:
Hao's famous for altering the performance and appearance of cars to better reflect their drivers' preferences. Visit Hao's Special Works to get a closer look at his latest project and Premium Test Ride — a hyper-charged, environmentally friendly Coil Cyclone II (Super).
I think the new Coil Cyclone II looks mega nice and definitely deserves a place in my garage.
HSW Time Trial of the Week
Test the limits of physics and your engine by gunning it between Sandy Shores and La Puerta in this week's HSW Time Trial.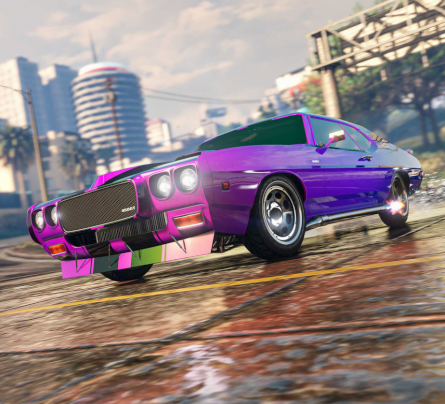 GTA+
GTA+ Members can claim the following rewards and bonuses through March 15:
The new 50-vehicle multi-floor Eclipse Blvd Garage, with style choice
An Emperor Vectre (Sports) with Mambas 24 and Sword Boy liveries
Exclusive Gun Van discounts and Lucha Libre tints for the Knife and Baseball Bat
50% off Supplies for your Acid Lab
All of this, and more, for just $5.99 a month, including a bonus of GTA$500,000 delivered upon billing and deposited automatically into your Maze Bank account. For full details, visit the GTA+ website.
Prime Gaming benefits:
This week, players who have linked their GTA account with Twitch Prime will receive 125,000 GTA$ credited to their Maze Bank account within 72 hours.
Our Gamersuniverse weekly tips:
This week, we recommend all GTA Online players who do not yet have a workshop to buy and upgrade one at a discounted price.
As for vehicles this week, you can go according to your taste and your bank balance 😉 There is no must-have discounted!
Farming and money making:
To maximize your income this week, run the right passive businesses as described in our money guides and definitely complete a new Hotring Circuit 2023 race to earn 100,000 GTA$. If you want to make a lot of money in GTA Online this week, grind the auto shop heist missions. Be sure to always choose the best-paying jobs. If you come across an exotic export on the map, drop everything and deliver the vehicle.
For more GTA guides, check out: GTA Online.
Pictures Copyright ©Rockstar Games