OWO cooperates with Ubisoft: Gamers feel like Basim in Assassin's Creed Mirage
Ubisoft has announced an exciting partnership with OWO, a leading company in the field of haptic technology. This collaboration aims to enhance the gaming experience in Ubisoft games by providing real haptic sensations. The launch of this partnership takes place in the latest installment of the popular Assassin's Creed series, Assassin's Creed Mirage®.
Assassin's Creed Mirage & OWO
In Assassin's Creed Mirage, gamers take on the role of Basim, a cunning street thief plagued by terrible visions. Basim joins an ancient organization that will change his destiny in ways he could never have imagined. Thanks to OWO compatibility, gamers will be able to feel everything Basim feels on his journey and quest for justice.
OWO's haptic system allows gamers to experience various sensory impressions such as impacts and parkour in Assassin's Creed Mirage. It also provides exclusive sensations that make the game even more intense. OWO compatibility will be available for PC and consoles such as PlayStation 5, PlayStation 4, Xbox Series X, and Xbox Series S.
Will there be a special edition and bundle?
As a result of the partnership between OWO and Ubisoft, a special edition of the game Assassin's Creed Mirage will be offered. This edition includes the outstanding OWO Haptic Gaming System and an ACM Edition Skin that authentically mimics Basim's design and outfit. The edition will initially be available on OWO's official website and later through various retailers bundled with the game.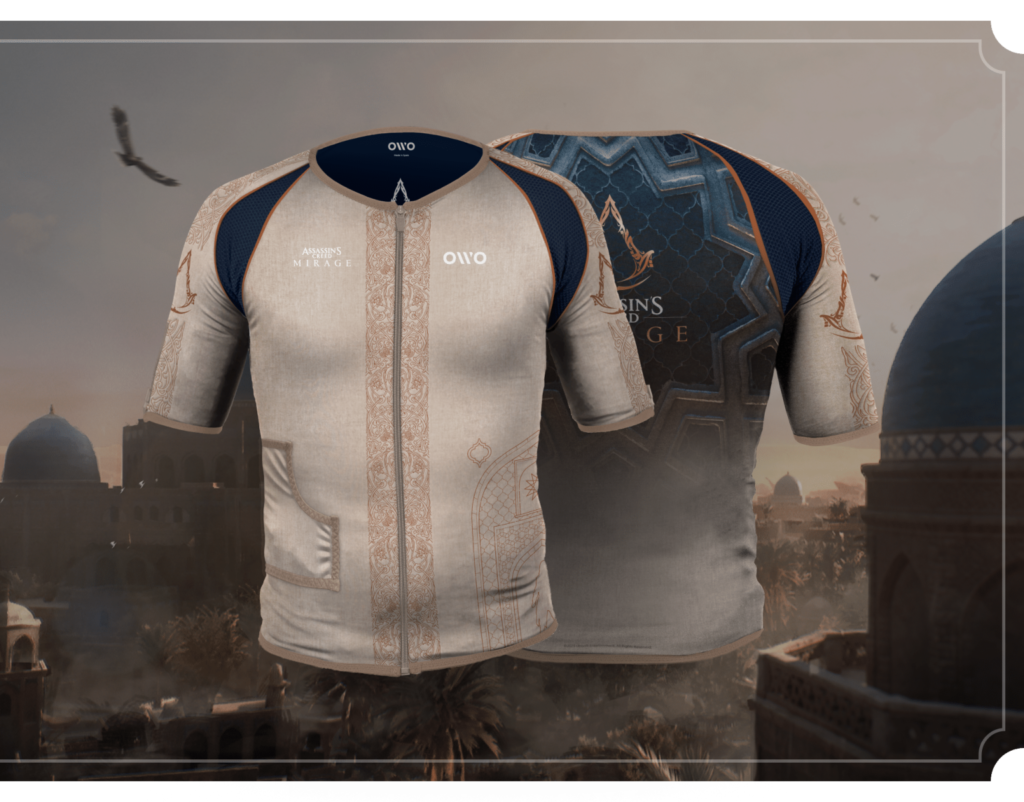 OWO and Ubisoft
Fabian Salomon, Lead Producer at Ubisoft Bordeaux, expressed enthusiasm about the collaboration, stating, "By leveraging OWO's groundbreaking technologies and expertise, we are able to immerse players in the world, sounds, and sensations of Assassin's Creed Mirage in innovative and enhanced ways. We can't wait for our fans to experience Basim's coming-of-age story with the power of OWO and enjoy it."
Jose Fuertes, Founder and CEO of OWO, also expressed excitement about the partnership, saying, "We are thrilled to announce the strategic partnership between Ubisoft and OWO. This dynamic alliance combines Ubisoft's world-class gameplay of top-notch video games with OWO's technological excellence. It's an incredible opportunity for OWO to collaborate with a publisher like Ubisoft. We are proud to have Assassin's Creed Mirage in our game portfolio, and we can't wait for gamers to experience the game. Together, we are on a mission to reshape the gaming landscape and push the boundaries of interactive entertainment."
Assassin's Creed Mirage is expected to offer an exciting and immersive gaming experience that pushes the boundaries of virtual reality. With the integration of the OWO Haptic Gaming System, gamers will be able to dive deeper into the world of Assassin's Creed than ever before. The combination of Ubisoft's captivating game world and OWO's real haptic sensations promises a unique and unforgettable gaming experience.
Who is OWO?
Founded in 2019, OWO is a leading company in the field of haptic technology. Their patented system, consisting of the My OWO App, OWO Skin, and Sensation Technology, enables real physical sensations in various areas such as entertainment, gaming, metaverse, smart cities, and health. OWO's wireless system is compatible with all platforms, including mobile phones, tablets, consoles, PCs, and VR, and can be used in both single-player and multiplayer modes.
Who is Ubisoft?
Ubisoft is a renowned video game publisher known for its successful franchises such as Assassin's Creed, Far Cry, and Tom Clancy's Ghost Recon. The company aims to captivate gamers with original and unforgettable entertainment experiences. Through Ubisoft Connect, gamers can access an ecosystem of services to enhance their gaming experience and stay connected with friends across platforms.
Conclusion
The partnership between OWO and Ubisoft is an exciting step towards innovative gaming experiences. Assassin's Creed Mirage promises to elevate the gaming experience to a whole new level, giving gamers the feeling of actually diving into the virtual world of Basim. With OWO's advanced haptic technology and Ubisoft's expertise, this collaboration is sure to expand the boundaries of interactive entertainment. The gaming community can't wait to explore the world of Assassin's Creed Mirage and experience the game with all their senses.
You can find more about the latest gaming news here: News
Pictures Source: OWO